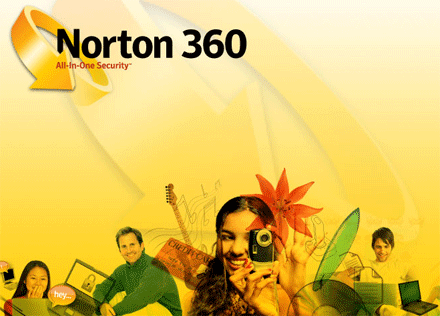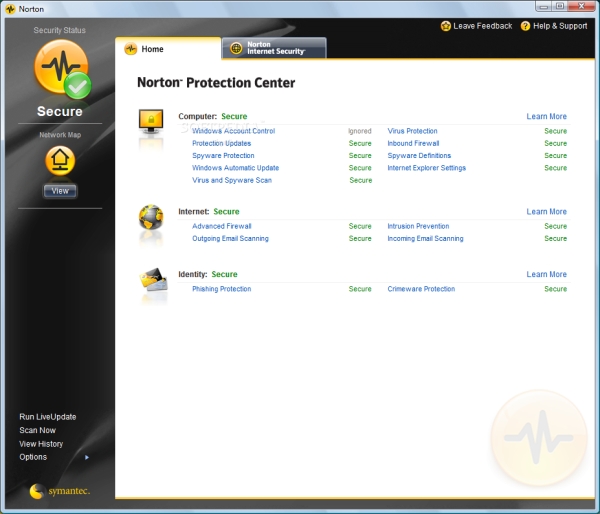 Norton 360 description
Offers a full circle of protection and eliminates the need to purchase and manage multiple products, Norton 360 will offer a full circle of protection and eliminates the need to purchase and manage multiple products.
PC security defends you against a broad range of online threats—protects your computer and makes your online experience more secure, Identity protection safeguards you against online identity theft—protects against fraud and theft, Automatic backup and restore protects your important files from loss—safeguards irreplaceable photos, movies, music, and more.
PC tuneup keeps your PC running at peak performance—helps your PC run faster and keeps it running the way it's supposed to, Network monitoring—helps protect your home network.
Here are some key features of "Norton 360":
Enhanced performance - Provides industry-leading protection without sacrificing performance:
· Fast scan and browse speeds
· Less memory use than the average used by competing products
· PC Security with industry leading virus, spyware and firewall protection
· And much more...........
Backup and restore:
· Protects photos, music, and documents with automated backup
· Supports new backup destinations including Blu-ray Disc, HD-DVD, and iPod
· Automatically detects and backs up your critical files
· Includes 2 GB of secured online storage (with option to purchase additional storage)
Network monitoring:
· Lets you view your wireless network and each device connected to it
· Displays the security status of all the Norton products on your network
· Alerts you when you connect to an unsecured wireless network
· And much more..........
Easy protection of your PC and online activities—Norton 360 threat handling, scans, and tuneups are conducted quietly in the background:
· Automatically optimizes and maintains your PC for peak performance
· Automatically cleans up unnecessary Internet clutter and temporary files
· Helps optimize Windows performance by removing unneeded registry files
One-click support - Provides one-click access to expert support right from your Norton product:
· Fast access to expert support through email, live chat, or phone
· Protection updates: Includes protection updates and new product features as available throughout the renewable service period
· Ongoing protection: Keeps your computer protected from the latest Internet risks by automatically renewing your subscription at the regular subscription price (plus applicable tax), so you don't have to do it. For more information, click here.
· Optional antispam and parental controls: Enables you to download antispam and parental controls via the Norton Add-on Pack
· Free Technical Support: Free tech support delivers the help you need, however you need it
Download Link :
[You must be registered and logged in to see this link.]