[center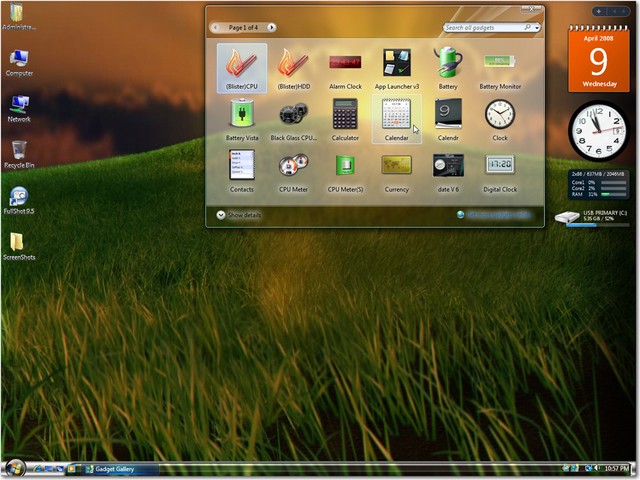 [/center]
[center
[/center]
[centerInstallation
You can perform 2 types of installation, either by booting this DVD or by clicking on "setup.exe". Both ways installation will be automated.Upgrade Option is available, so u can upgrade your XP to this vista edition.
Activated & Genuine Copy:
This copy of windows will be activated during last phase of installation. and it also will be genuine. so u dont need to activate is manually. You can also update your windows with Microsoft updates without any problem.
Important Features:
- Office 2007 SP1 Enterprise Integrated
- Fully Automated Setup you need to choose language, Upgrade option and partition only.
- Automated Activation, You wont need to connect to internet to activate your windows. It will be done.Offline and automatically.
- Based on windows vista ultimate & All Windows Ultimate Extras Included.
- Winrar and 7zip installed for extraction purposes.
- No components removed
- Patched Uxtheme files so u can use any 3rd party themes.
- New Default Theme.
- New Buttons, logon screen.
- Registry Tweaks for better performance & Visual Effects
Tweaks Included:
- "Take Ownership" in context menu
- Additional Avlon Effect ( DWM )
- Slow Motion Effect ( DWM )
- PowerOff after shutdown
- Windows will tell you exactly what it is doing when it is shutting down or is booting ( you can see it on logon screen )
- Added command prompt to right click context menu
- Disabled User Account Control ( UAC) [ you can enable this from control panel later. ]
- Add "Explore from here" context menu while right clicking on folders
- Get rid of the Windows Mail splash screen
- Show Super Hidden Files in vista
- Maximum simultaneous downloads for IE to 20 ( default is 2 )
- Enable ClearType Tuning
- Added 'Copy to Folder' and 'Move to Folder' to right click context menu
- Added 'open with notepad' to right context
- Disabled Windows Media Player AutoUpdates
- Added "Advanced System Properties" to right-click on Computer
- Faster browsing with IE
Download Link : [/center]
[centerhttp://rapidshare.com/files/220710691/Win_Vis_Ex_S1_SL.part01.rar
[You must be registered and logged in to see this link.]
[You must be registered and logged in to see this link.]
[You must be registered and logged in to see this link.]
[You must be registered and logged in to see this link.]
[You must be registered and logged in to see this link.]
[You must be registered and logged in to see this link.]
[You must be registered and logged in to see this link.]
[You must be registered and logged in to see this link.]
[You must be registered and logged in to see this link.]
[You must be registered and logged in to see this link.]
[You must be registered and logged in to see this link.]
[You must be registered and logged in to see this link.]
[You must be registered and logged in to see this link.]
[You must be registered and logged in to see this link.]
[You must be registered and logged in to see this link.]
[You must be registered and logged in to see this link.]
[You must be registered and logged in to see this link.]
[You must be registered and logged in to see this link.]
[You must be registered and logged in to see this link.]
[You must be registered and logged in to see this link.]
[You must be registered and logged in to see this link.]
[You must be registered and logged in to see this link.]
[You must be registered and logged in to see this link.]
[You must be registered and logged in to see this link.]
[You must be registered and logged in to see this link.]
[You must be registered and logged in to see this link.]
[You must be registered and logged in to see this link.]
[You must be registered and logged in to see this link.]
[You must be registered and logged in to see this link.]
[You must be registered and logged in to see this link.]
[You must be registered and logged in to see this link.]
[You must be registered and logged in to see this link.]
[You must be registered and logged in to see this link.]
[You must be registered and logged in to see this link.]
[You must be registered and logged in to see this link.]
[You must be registered and logged in to see this link.]
[You must be registered and logged in to see this link.]
[You must be registered and logged in to see this link.]
[You must be registered and logged in to see this link.]
[You must be registered and logged in to see this link.]
[You must be registered and logged in to see this link.]
[You must be registered and logged in to see this link.]
[You must be registered and logged in to see this link.]
[You must be registered and logged in to see this link.]
[You must be registered and logged in to see this link.]
[You must be registered and logged in to see this link.]
[You must be registered and logged in to see this link.]
[You must be registered and logged in to see this link.]
[You must be registered and logged in to see this link.]
[You must be registered and logged in to see this link.]
[You must be registered and logged in to see this link.]
[You must be registered and logged in to see this link.]
[You must be registered and logged in to see this link.]
[You must be registered and logged in to see this link.]
[You must be registered and logged in to see this link.]
[You must be registered and logged in to see this link.]
[You must be registered and logged in to see this link.]
[/center]