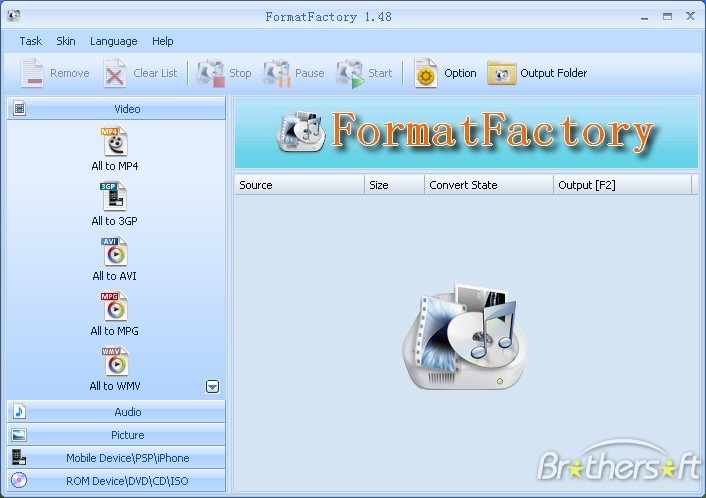 "Convert all popular video,audio,picture formats to others(Supports 48 languages)"
Edit By BS Editor: FormatFactory is a multifunctional Media Converter.
Provides functions below:
All to MP4/3GP/MPG/AVI/WMV/FLV/SWF.
All to MP3//WMA/MMF/AMR/OGG/M4A/WAV.
All to JPG/BMP/PNG/TIF/ICO/....
Rip DVD to video file , Rip Music CD to audio file.
MP4 files support iPod/iPhone/PSP/BlackBerry format.
Source files support RMVB.
FormatFactory's Feature:
1 support converting all popular video,audio,picture formats to others.
2 Repair damaged video and audio file.
3 Reducing Multimedia file size.
4 Support iphone,ipod multimedia file formats.
5 Picture converting supports Zoom,Rotate/Flip,tags.
6 DVD Ripper.
7 Supports 38 languages
V1.85 2009.4.25 1 Added Volume Control in video setting. 2 Added Audio stream index control in video setting. 3 Adjust Video aspect ratio calculating. 4 Fixed Fail to shut off PC after conversion. 5 Fixed show "FFMpeg.dll missing" when audio conversion. 6 Fixed Fail to get CD info from FreeDB.org. 7 Added 2 language files to support up to 47 kinds of languages. 8 Added some Profiles of HTC Mobile.
Download Link :
[You must be registered and logged in to see this link.]