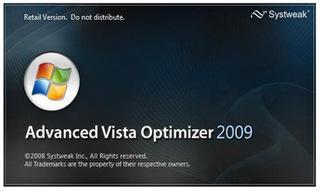 Info:
It is a collection of various utilities and tweaks for Vista/XP based systems.
Vista has huge collection of security and tweaking tools but it is always difficult for a average user to identify the location of these tools and understand what they exactly do.
Advanced Vista Optimizer 2009 makes Vista experience a pleasure. The Advanced Vista Optimizer application will guide you with every operation that you can perform on your Vista machine. Some of the operations that can be performed using this product are not available for average users by the Windows.
This application provides you the easy to use interface with tools like never available for Windows management to a average user.
FEATURES:
Single Click Care - This module of Advanced Vista Optimizer is designed for all users to make the most out of their Windows Vista PC without any effort. It includes important tools to optimize system, startup programs, protect your privacy, clean junk files, optimize memory and tuneup your computer for reasonable security.
• System Optimization. Checks your system for 13 attributes and recommends settings and optimizations
• Managing Start-up Programs. This part of Single Click Care in Advanced Vista Optimizer helps you optimize the auto start programs in the your Windows Vista Computer.
• Privacy Protector. Cleans the system for Privacy Protection like Internet history or other activities on the computer like the recently accessed programs.
• Junk File Cleaner. Scan your system for unused junk files and present you the list for cleaning. Removing junk files can greatly improve your system's response time.
• Memory Optimizer. Frees up unused Memory and optimizes Memory utilization so that you don't have to buy new hardware everytime!
• Tune-Up for Reasonable Security. Provides you with reasonable settings for securing your operating system and computer data.
Remember:Patch dipaste kat drive c atau d (ikut area install korang)...lepas tu masuk kat bahagian program/systweak/advanced vista optimizer...paste...mulakan patch.
Download Link :
[You must be registered and logged in to see this link.]